Specializing in Full-Service International Tax and Accounting Services.
75+ years combined experience.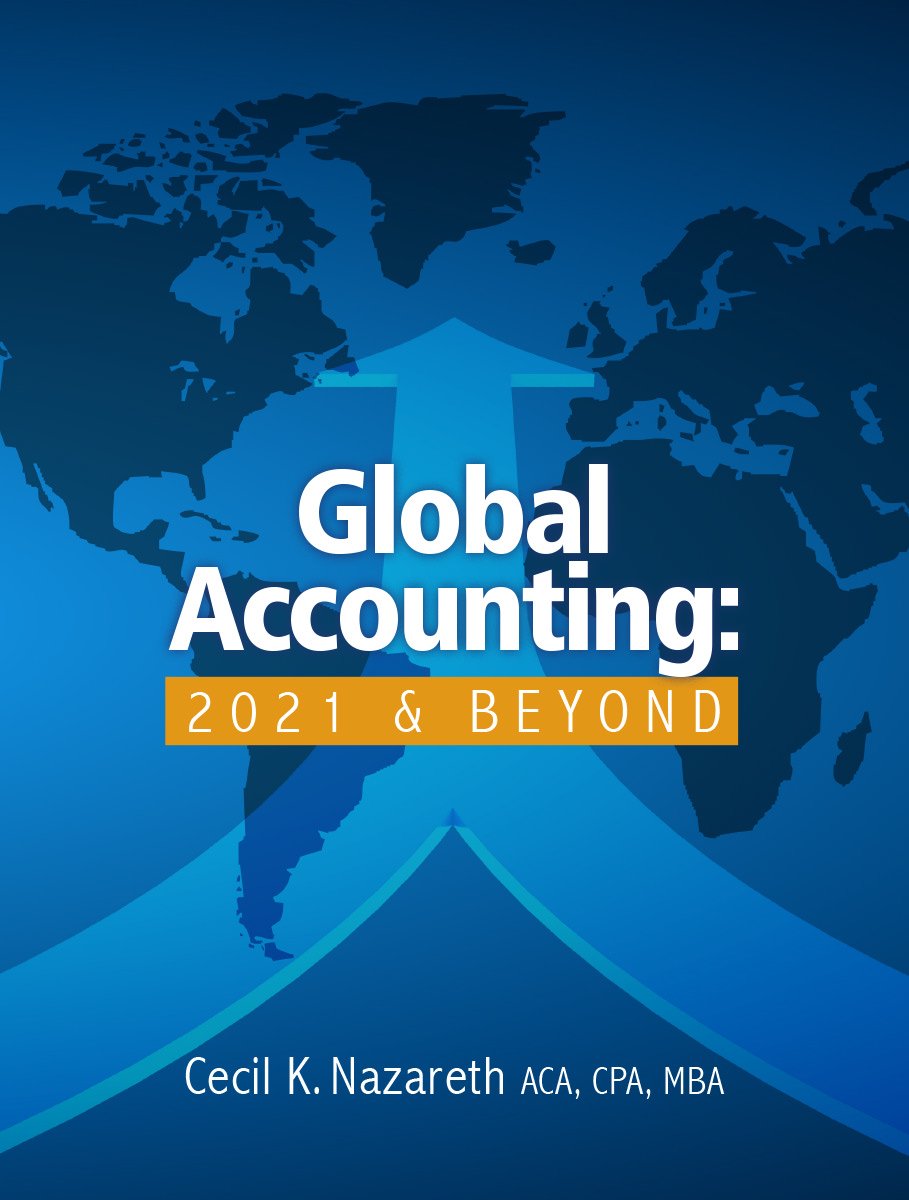 Just Released! Global Accounting: 2021 & Beyond
Latest book by firm founder Cecil Nazareth now available in hardcover, soft cover and eBook format.
Order Now
The International Tax Consultants
CARES Act and COVID-19 Tax Impact
The pandemic crisis has brought business and economic activity to a grinding halt in
many areas. In response, the Government has stepped in to provide cash flow and
economic incentives to stabilize businesses by providing bank financing and deferral of
tax payments. Here are some key provisions to keep in mind:
Small Business Debt Relief Program
SBA Loans
Delay of Payment of Employer Payroll Taxes
Visit our Coronavirus Resource Center for more.
FILINGS RULES AND EXTENSION DEADLINES ARE CHANGING VERY FREQUENTLY – PLEASE CONSULT WITH US BEFORE TAKING ANY ACTION!
---
Tax Planning & Update 2021 Presentation
Discover red flags, changes, plans, strategies, and more
---
News
Our Recent Newsletters
Recent Podcasts
Importance of Business Cash Flow [2:05]
xtended Payroll Protection Program [2:51]
April 15th Tax Deadline Extension [3:58]
International Tax Comment [7:15]
View All Podcasts
Taxes, Accounting, & Consulting
Taxes
Our team of consultants can help you navigate the complex and wide range of domestic and international tax requirements in order to limit your tax liability and protect your interests. We'll also point out changes that could be made to improve your rate the next year.
Accounting
Our job is to keep your personal and commercial entities' books in compliance with domestic and international laws and policies. By trusting us with your accounting tasks, you'll have more time to concentrate on growing your business and generating profits.
Consulting
Legislation and regulations vary by country and we're here to help you navigate your next real estate purchase, entity filing, or whatever else. We routinely help clients design a comprehensive plan that will help them reach their financial objectives.
The Support You Deserve
---
Nazareth's firm helped me with…
---
We have been a client of Nazareth CAs & CPAs for over three years now and are very pleased with our relationship with them. We work directly with Cecil who has proven over the years that he's not just an expert with accounting, tax planning and tax filing but also a very amiable, courteous and patient individual.
He's very easy to work with. He asks the right questions and leaves no stone unturned to ensure that his clients understand and claim all the tax deductions applicable to them. He is able to come up with creative and tailor made strategies for each client because he puts in the effort to understand his clients, their personalities and most importantly, the nuances of their business (with corporate clients).
We highly recommend Cecil and Nazareth CAs & CPAs for your accounting, auditing and tax consulting needs.
– Sid Poonja (Owner, Vaman Tech Inc [IT Consulting])
& Seema Rai (Owner, Seema Rai MD PC, Infectious Diseases practice)
Over 5 years ago, I was introduced to Cecil Nazareth, by my Financial Advisor.
My parents had left me some assets, in India, which required navigating complex Tax reporting requirements in both countries.
With experience in both U. S. and India Tax laws, Cecil and his Firm have been extremely helpful with both Tax planning and reporting for us.
Many of us who have settled here are in a similar situation and I have taken the liberty of recommending him to my friends & acquaintances.
– Sudhir Bansal

Don't be fooled by his humble demeanor. Cecil Nazareth is one of the world's foremost experts on international tax and accounting issues, particularly between the U.S. and India.
As a practitioner, professor and mentor, he has an uncanny ability to explain highly complex topics in simple concise language while weaving in a myriad of real-world case studies—and colorful anecdotes–drawn from his decades in the CPA profession. Whether you are a client, a student, a protégé or simply a concerned taxpayer, spending just a few minutes with
Nazareth will make you smarter, better informed financial decision-maker. The International Tax & Accounting Handbook is the next best thing to being with him in person. There has never been a time to share this body of work with taxpayers around the globe.
Henry Berkowitz, MBA, MA. President, HB Publishing & Marketing Company, LLC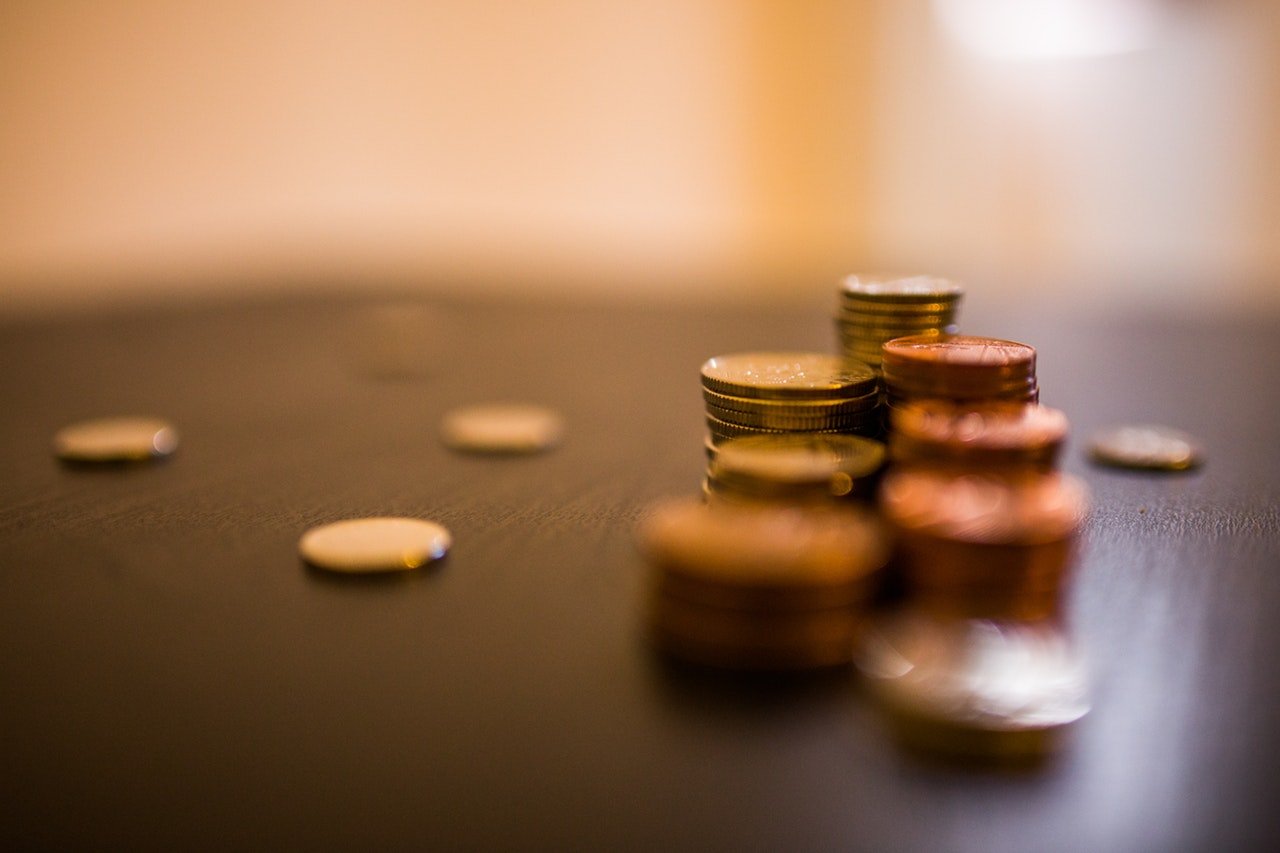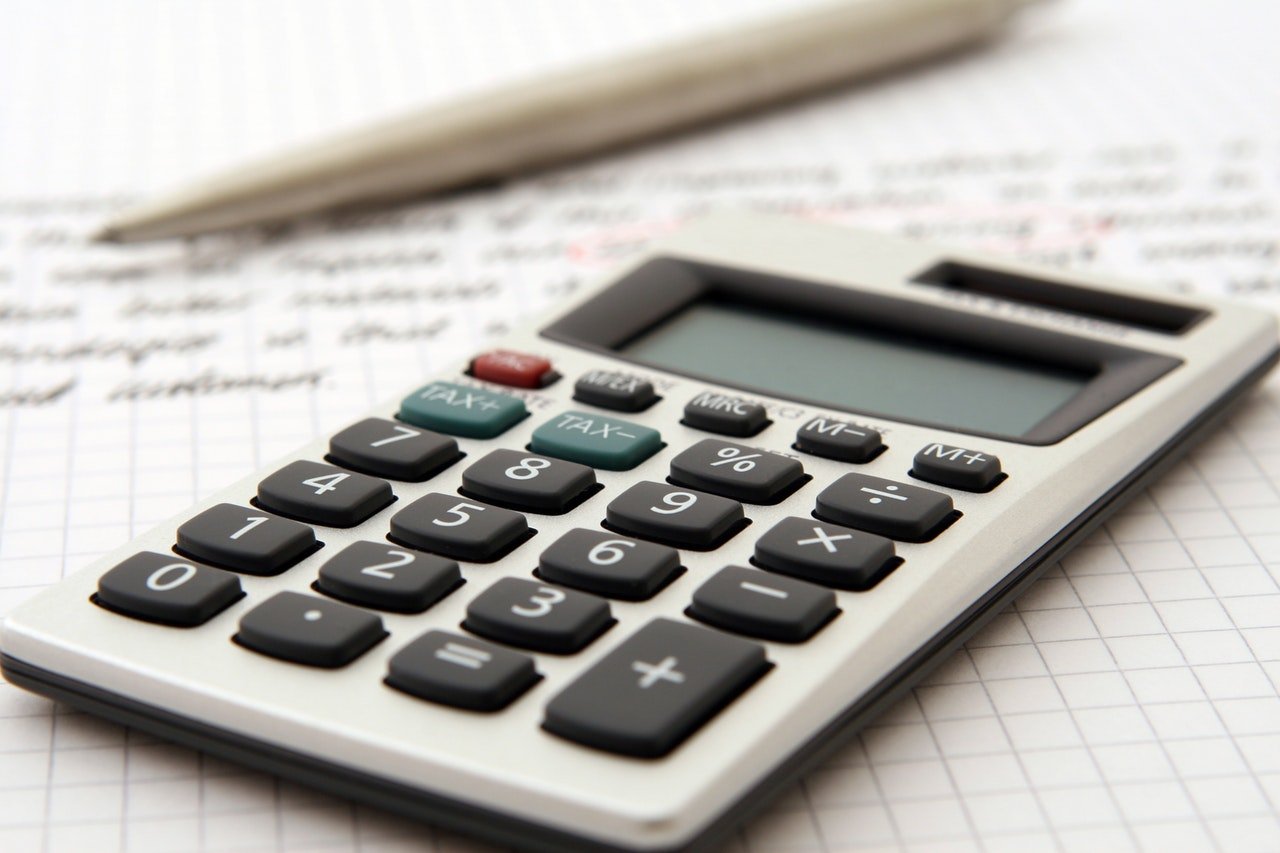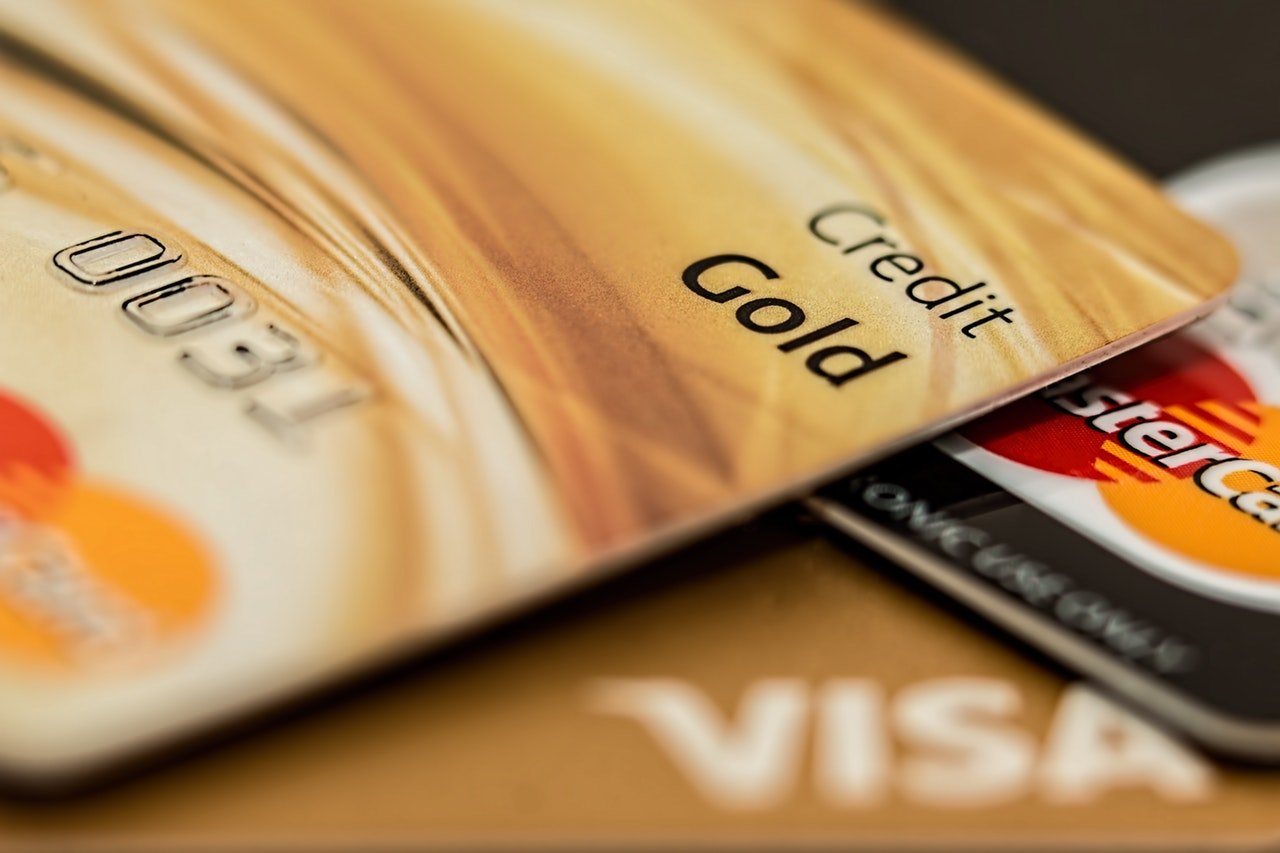 Who We Are
Our accounting and tax consultants have over 50 years of combined experience providing comprehensive solutions to businesses and high net individuals around the world.
Who We Serve
Nazareth is a full-service accounting, tax and consulting firm licensed in NY. We navigate domestic and international clients through compliance in efforts to achieve their goals.
What We do
We have a wide range of clients in many countries, however our common include technology, real estate, and medical companies as well as high net individuals.
Common Industries We Serve
High Net Worth Individuals
Kentucky State Society of CPAs
CPA Connecticut
Society of CPAs
CPA Connecticut
Society of CPAs
Royal Palace, White Plains, Westchester, NY
Georgia State Society of CPAs
Accounting & Auditing Update
Georgia State Society of CPAs
International Entity Taxation Post-TCJA
Illinois State Society of CPAs
Accounting & Auditing Update
Pennsylvania Institute of State Society of CPAs
California State Society of CPAs
Minneapolis Convention Center,
Minneapolis, MN
Minnesota Society of CPAs
Gaylord Rockies Resort, Aurora, CO
Washington State Society of CPAs
International Tax Committee Meeting & Update
New York State Society of CPAs
Javits Convention Center, New York, NY
Easton Public Library, Easton, CT
Connecticut Society of CPAs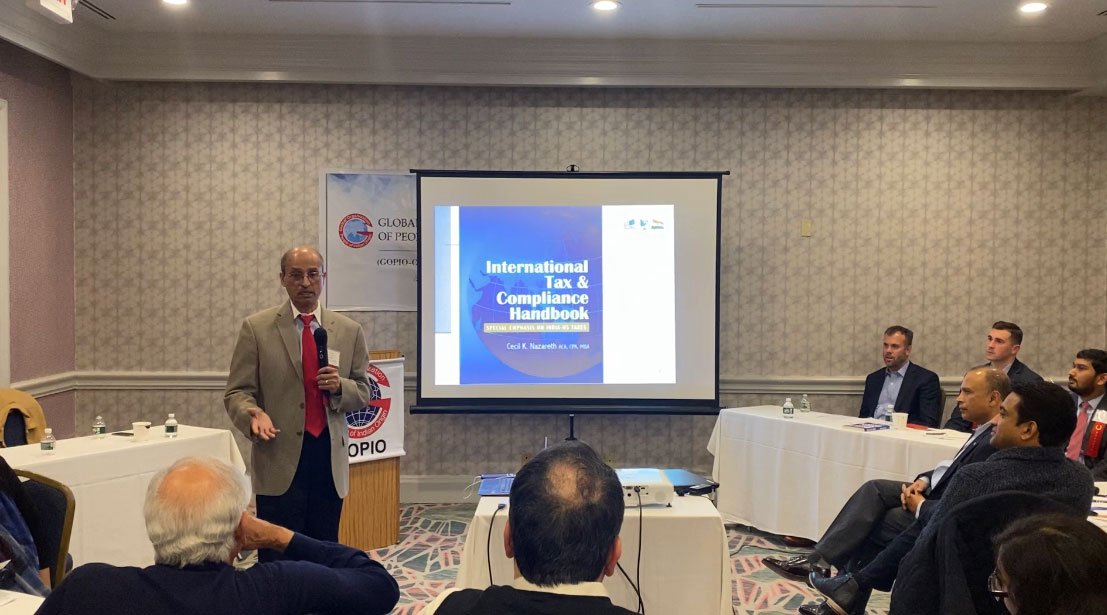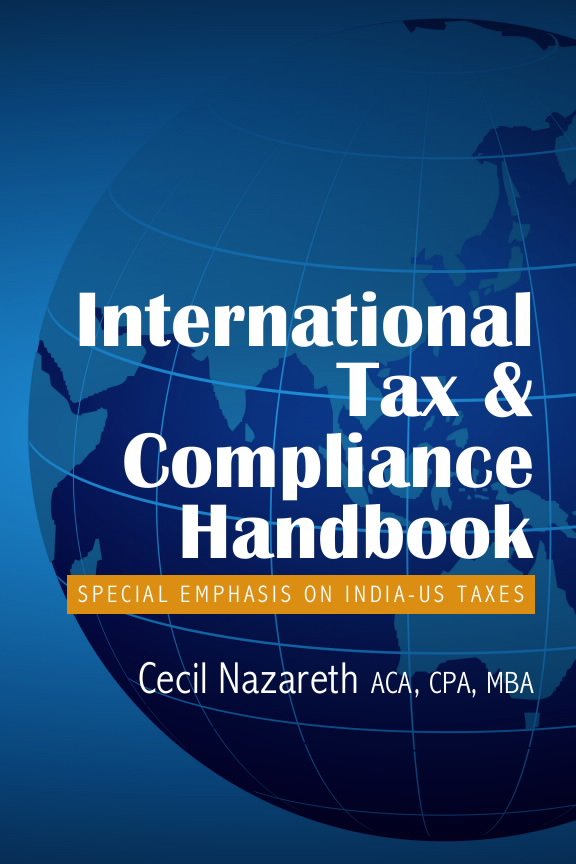 International Tax & Compliance Handbook
Special Emphasis on India-US Taxes
Forward by Sidney Kess, CPA, J.D (HARVARD) ., LLM
Cecil Nazareth ACA, CPA, MBA has an outstanding worldwide reputation as a teacher, lecturer, practitioner and mentor. He has led hundreds of training sessions and seminars about international tax and accounting and he has helped countless young professionals advance their careers in the CPA profession.
In today's hyper-speed global economy, every practitioner should have a basic understanding of international tax regulations. The rules change constantly and the penalties for non-compliance are steep as all too many have learned via Foreign Bank Account Reporting (FBAR) has taught us.
All business is global. Unfortunately, the severe shortage of knowledgeable international tax professionals leads to poor decisions and non-compliance at both the personal and corporate level. Due to a lack of resources and understanding, non-compliance can be both voluntary and involuntary. Thanks to thought leaders like Cecil Nazareth, however, the knowledge void is being filled.
I highly recommend Nazareth's book to both tax practitioners and individuals who need a basic understanding of International tax issues or cross-border transactions. This publication could not have come at a better time!
International tax compliance has become a major focus for the IRS and for intergovernmental agencies. The Panama Papers and the Paradise Papers are just two high-profile examples of the increased spotlight on international tax havens.
International tax and compliance handbook is an excellent introduction to international taxation with a special emphasis on India-U.S. taxation and international real estate.
Nazareth's book is intended as a handbook for those engaged in international transactions. Rather than a textbook, International tax and compliance handbook is a light read and resource for people who want to get up to speed quickly on international tax rules and compliance. The forms and templates are helpful to practitioners and the book is chock full of useful tips, charts and real-world client examples drawn from Nazareth's 30 years in the CPA profession.
I look forward to future updates of this body of work. It is a significant contribution to our profession.
View More Resources
View the Book